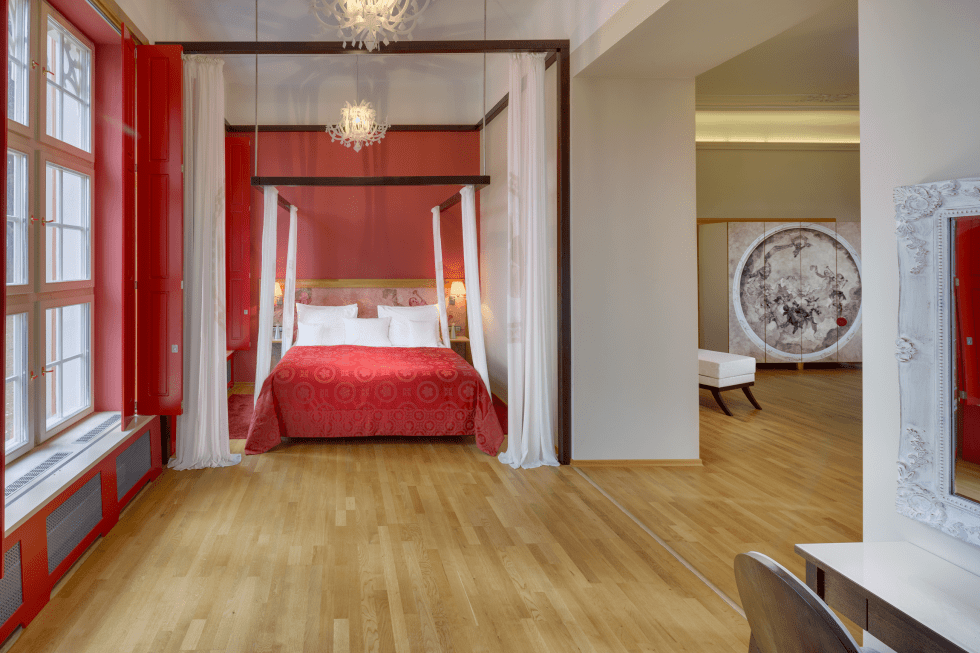 Presidential Suite of the Lords of Solms
131 m² | Park view
The exceptional space of the Presidential Suite of the Lords of Solms has some wonderful details that will captivate you from the first moment. A circular light hovers as if levitating from the ceiling, discreetly illuminating a special moulded stucco fresco of angels. This room also has unique lime wood ceiling stucco, a gorgeous bedroom in the orangery and an absolutely unique bathroom in the south tower. The discovery of the medieval bath in the floor mounds inspired us to put it to modern use, so you can enjoy the bathroom that was planned centuries ago in a contemporary design. For even greater personal convenience, we have equipped this exceptional suite with a personal wine cellar, so you can enjoy great wines from the chateau's extensive wine cellar in the comfort and intimacy of your luxury accommodation.
Amenities of the
Presidential Suite
Hairdryer

Bath

Cosmetics L'Occitane
Homemade loose teas

TV/internet/safe

Box full of goodies

Personal wine cabinet
100% wool blanket

Gymstick

Mobile fireplace
Become a member of the Friends of Chateau Herálec Club
Book your room directly: via this website, by email or by phone.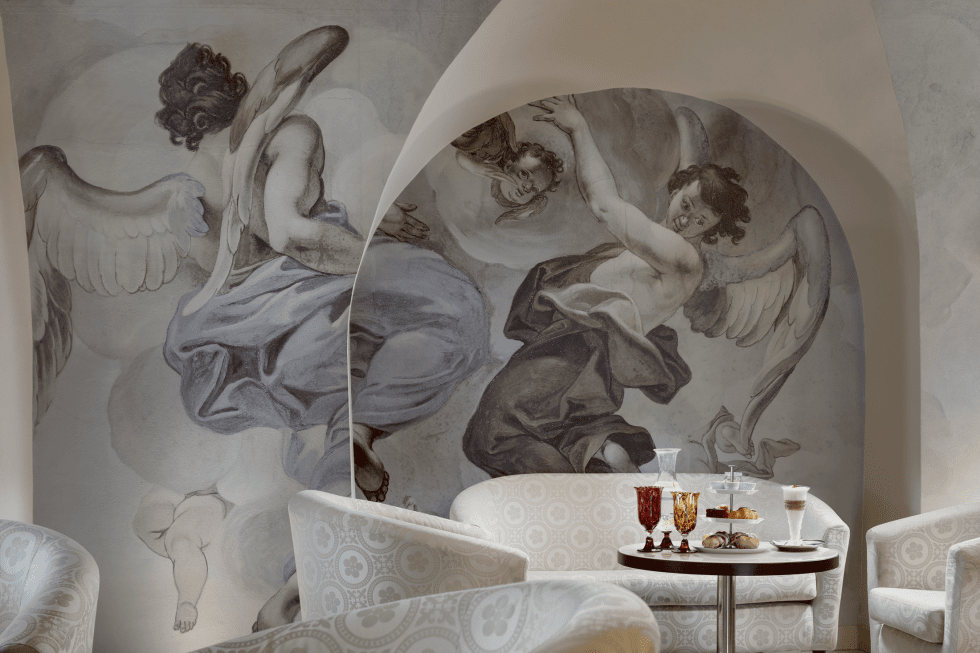 Gallery concept

Thanks to the Vysočina Regional Gallery, visitors can see large-scale installations of paintings and artists such as Mánes, Honsa, Chittusi, Kosárek, Preisler and others are sure to guarantee an artistic experience. You look at the precise work of the old masters, you watch the brushstrokes, and you let yourself be carried away by the colourful emotion of the painting. A truly extraordinary experience.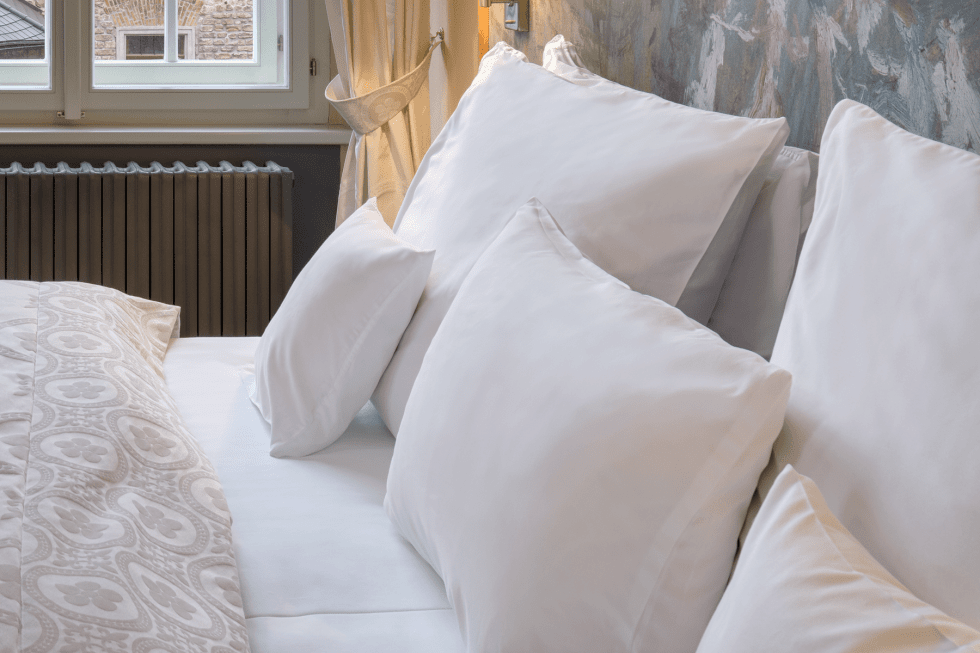 Pillow Menu

We know how important an undisturbed, restful and relaxing sleep is for our guests. That's why we have taken great care in selecting mattresses and pillows to meet the needs of all our guests. We have a selection of specially filled goose down pillows of varying thickness and size, anti-allergy pillows and anatomical pillows.
Tailored experiences for you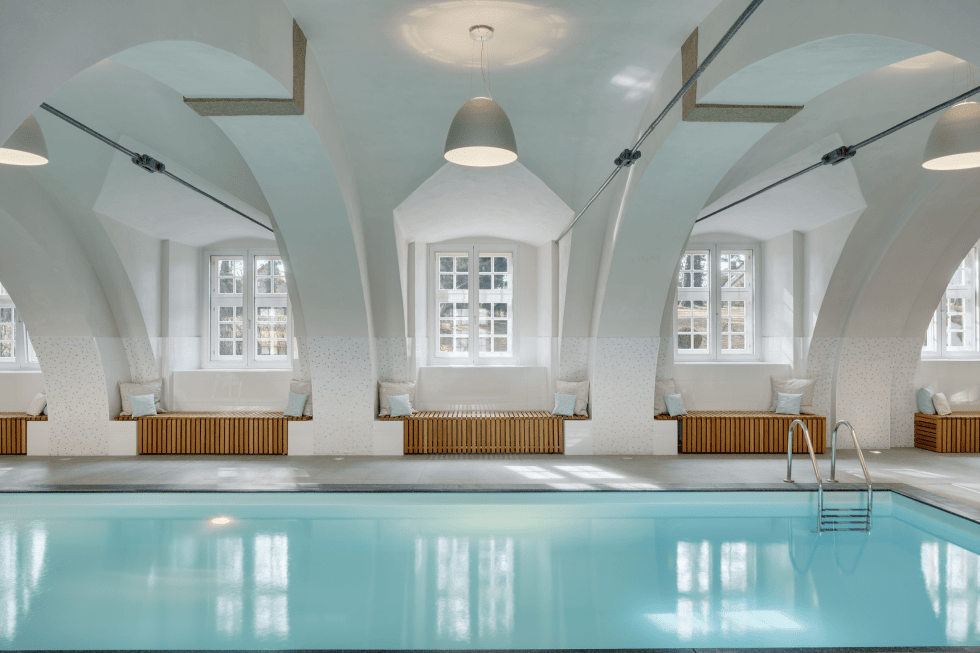 Wellness & Spa
True relaxation for all your senses
Let your body and soul be pampered in the luxurious surroundings of our unique Spa by L'OCCITANE with natural beauty products to the highest quality.