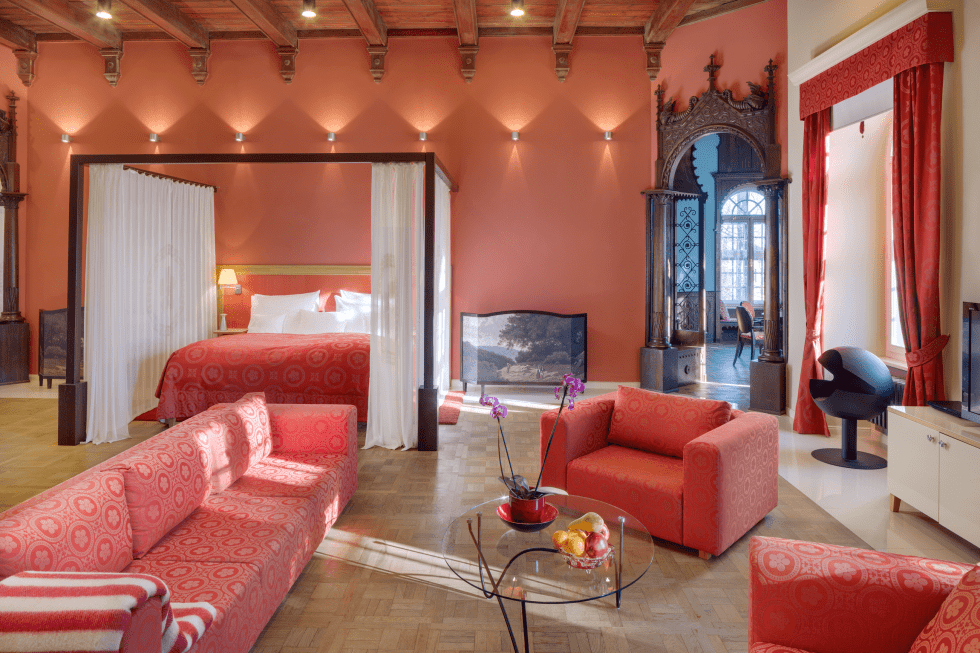 King's Suite
of the Lords of Trčků of Lípa
139 m² | View of the castle parterre
The most extensive chateau suite is named after one of the most powerful Czech families - the Trčků of Lípa. The Trčkas were also the governors of this beautiful region and were so rich that they even lent money to Czech kings. Enter and be inspired by the original wooden ceiling and the beautiful mosaic floor. Touch the carved wooden mirrored portal that is the jewel of this suite, where you can relax under the canopy or settle into the soft cushions. The vast historic tiled stove guards the entire space like a knight in green armor. And to top it all off, a real castle secret - a turret with a Moorish wood-paneled lounge for moments of reverie and pleasant conversation. For even greater convenience, we have equipped this exceptional suite with a personal wine cellar so you can enjoy great wines from the chateau's extensive wine cellar in the comfort and intimacy of your luxury accommodation.
The room can be connected to the Luxury Double Room of the Lords of Roupov to create an incredible 214 m² of space.
Amenities of the King's Suite
Hairdryer

Bath

Cosmetics L'Occitane
Homemade loose teas

TV/internet/safe

Box full of goodies

Personal wine cellar
100% wool blanket

Gymstick

mobile fireplace
Become a member of the Friends of Chateau Herálec Club
Book your room directly: via this website, by email or by phone.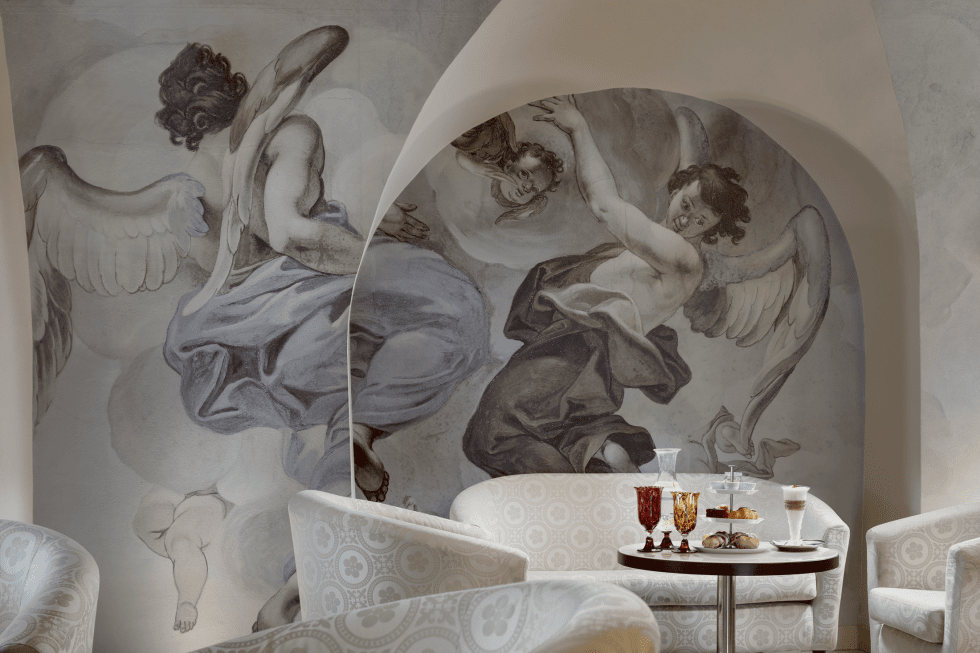 Gallery concept

Thanks to the Vysočina Regional Gallery, visitors can see large-scale installations of paintings and artists such as Mánes, Honsa, Chittusi, Kosárek, Preisler and others are sure to guarantee an artistic experience. You look at the precise work of the old masters, you watch the brushstrokes, and you let yourself be carried away by the colourful emotion of the painting. A truly extraordinary experience.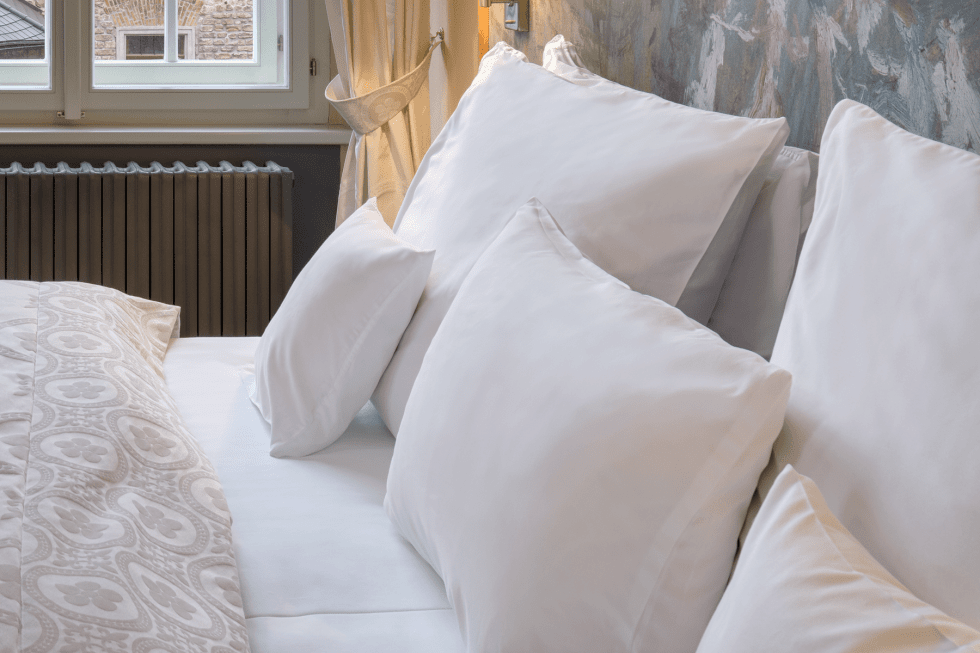 Pillow Menu

We know how important an undisturbed, restful and relaxing sleep is for our guests. That's why we have taken great care in selecting mattresses and pillows to meet the needs of all our guests. We have a selection of specially filled goose down pillows of varying thickness and size, anti-allergy pillows and anatomical pillows.
Tailored experiences for you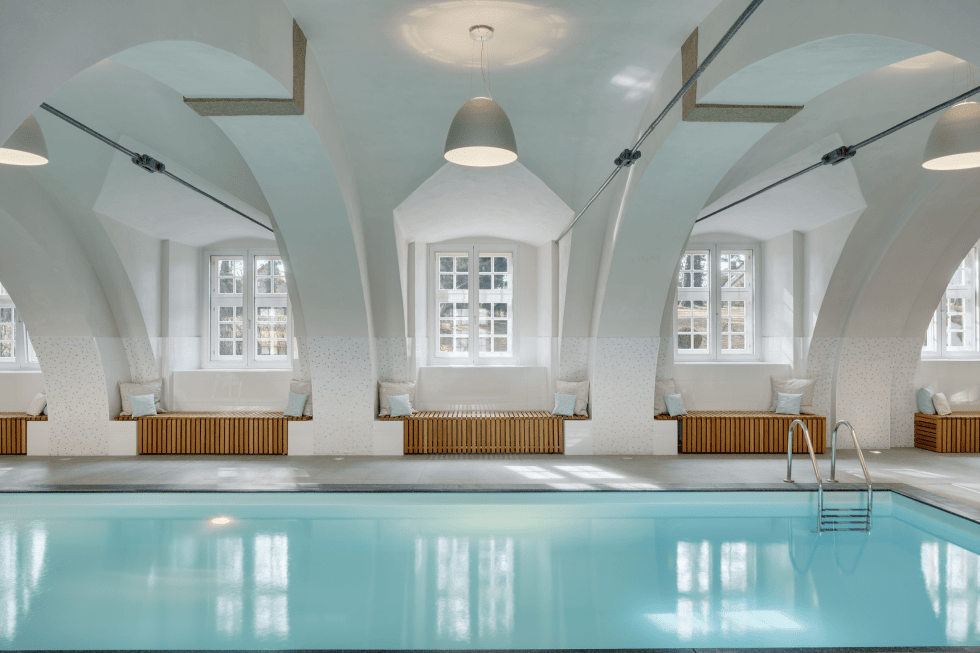 Wellness & Spa
True relaxation for all your senses
Let your body and soul be pampered in the luxurious surroundings of our unique Spa by L'OCCITANE with natural beauty products to the highest quality.